Meeting Location: The Ronald Gardenswartz Jewish Community Center of Greater Albuquerque (JCC)
Address: 5520 Wyoming Blvd NE
(Between Academy and Osuna)
Albuquerque, NM 87109
Directions:
From I-25 take San Mateo/Osuna exit.
Head SOUTH/EAST on San Mateo.
Turn EAST on Academy Blvd.
Turn SOUTH on Wyoming Blvd.
The JCC is located past the light on the east side of Wyoming Blvd.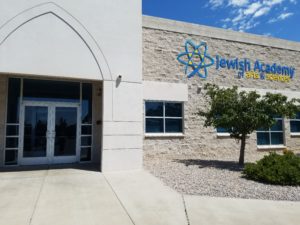 – At the entrance drive there is a sign for Presbyterian medical offices (maroon) and a sign for the JCC – the "J" is a red chile pepper and then the letters "CC" after it. The sign is electronic with lighted messages.
– Park in the south parking lot. Drive into the front drop-off circle and turn right and drive towards right side of the building towards the playing field.
– Enter through the south door near the playing field where you will see the sign for the Jewish Academy of Arts and Sciences on the building (in photo at right). We will be in Classroom 105.
Meeting Details: We meet from noon-2pm on the 4th Saturday of each month (dates listed below), with the exception of December, for a potluck luncheon and educational session. Those attending should bring a dish to share along with your own table service (plate, bowl, silverware, napkin, beverage). Please bring a copy(s) of your recipe if your dish is homemade as others may have additional food sensitivities. If store-bought, be sure to bring the package. Please be sure that your dish can serve 8 or more people. (Hint: If you are newly diagnosed, or you will be attending your first meeting and are unsure of what to bring, don't feel obligated to bring something extravagant. A simple dish like fresh cut fruit or vegetables or a cheese plate are great options.)
Typically, at each meeting, we enjoy a fabulous lunch and each others company first, followed by a short educational/sharing session, which usually starts around 1:00pm. If you wish to only participate in the educational session, please be there by 12:45 pm.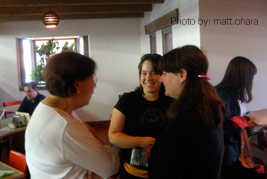 Meeting Dates for 2018
January 27
February 24
March 24
April 28
May 26
June 23
July 28
August 25
September 22
October 27
November 24
December – no meeting – Happy Holidays!
If you need assistance getting to a meeting or would like to carpool, please contact us so that we can get you hooked up with one of our members.